Machine 2 Machine Services
Machine 2 Machine communications via Web or Mobile interface developed by AuroSys helps automate business processes and streamline operations, allowing enterprises to minimize costs and maximize revenues by using our expertise and emerging potential of smart devices. AuroSys has mastered M2M communication as a modern approach using a broad range of fixed and wireless technologies.
Concurrent advances in wireless technologies, wider availability of application services and the upcoming business-customer demands are fueling the M2M industry leveraging IoT capabilities to grow faster in today's competitive market. The M2M ecosystem is developing and creating tremendous opportunities beyond the traditional M2M market segment for verticals like Aerospace, Automobile, Utilities/Smart Grid/Energy/Telemetry, Transportation and Logistics, Security/Surveillance, Healthcare, Retail/Vending, Consumers, Environment, Education, Military, etc.
Our M2M Service Expertise includes
Application Enablement & Integration
Integrated M2M Terminals
Generic Communications & Logistics
Remote Entity & Device Management
Monitoring & Control
Security Systems Integration & Deployment
Historical Data Retention
Energy Data Management
Smart Grid & Metering
Transactions Management
Asset Tracking
Interworking Proxy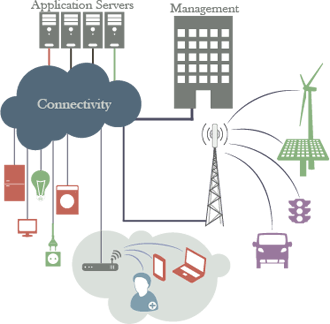 Some of the Industry Specific Solutions
| Industry | M2M Solutions |
| --- | --- |
| Retail | POS, Order Management, Employee Management, Stock Inventory Management |
| Security | Surveillance Applications, Alarms, Tracking (Object/Person) |
| Transportation | Fleet Management, Emission Control, Toll, Smart Metering, Fuel Control |
| Healthcare | eHealth, HMS Integration, Telemedicine |
| Smart | Energy Control & Measurement, Provisioning/Billing for Utilities, Smart Grids, Metering |
| Supply Industry | Freight Supply and Distribution Monitoring, Franchise Management, Utilities Usage Control |
| Miscellaneous | Automation, Public Lighting, Waste Management, Traffic Management & Signals, Municipal Governance |